Pastor Shawn Brooks was born in Britt, IA. He spent his first few years of life in Pomeroy, Paulina, and Cedar Falls, IA, before moving to Rochester, MN, at age five. Pastor Shawn grew up in Rochester and graduated from Mayo High School in 1978. He went to college (the first time) at Carleton College in Northfield, MN, where he earned a BA in Theatre in 1982. After doing theatre scenery and lighting for a few years in various locations, Pastor Shawn returned to college and earned a BS in Computer Science from Winona State University in MN in 1995. He worked as a computer programmer for three different companies before leaving to attend seminary in 2011.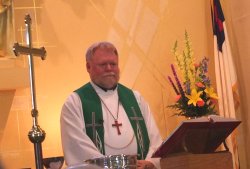 Pastor Shawn graduated from Wartburg Theological Seminary in Dubuque, IA, in 2015 with a Master of Divinity degree. He was assigned to the Western Iowa Synod in the spring of 2015, and was called to be the pastor of St. Peter and Christ Lutheran Churches in July of 2015. Pastor Shawn was ordained in the Evangelical Lutheran Church in America on August 29th, 2015, and began his call on September 1, 2015.
Pastor Shawn married Tami Groth in 2004. Tami is also a 2015 graduate of Wartburg Theological Seminary. She earned a Master of Arts in Diaconal Ministry and is a Deacon in the ELCA, serving in the Western Iowa Synod. Shawn and Tami have two children. Tami's daughter Megan graduated from high school in 2016 and is currently pursuing a radiography degree. Their daughter Nessa attends Le Mars Community Middle School, where she especially enjoys history and art.